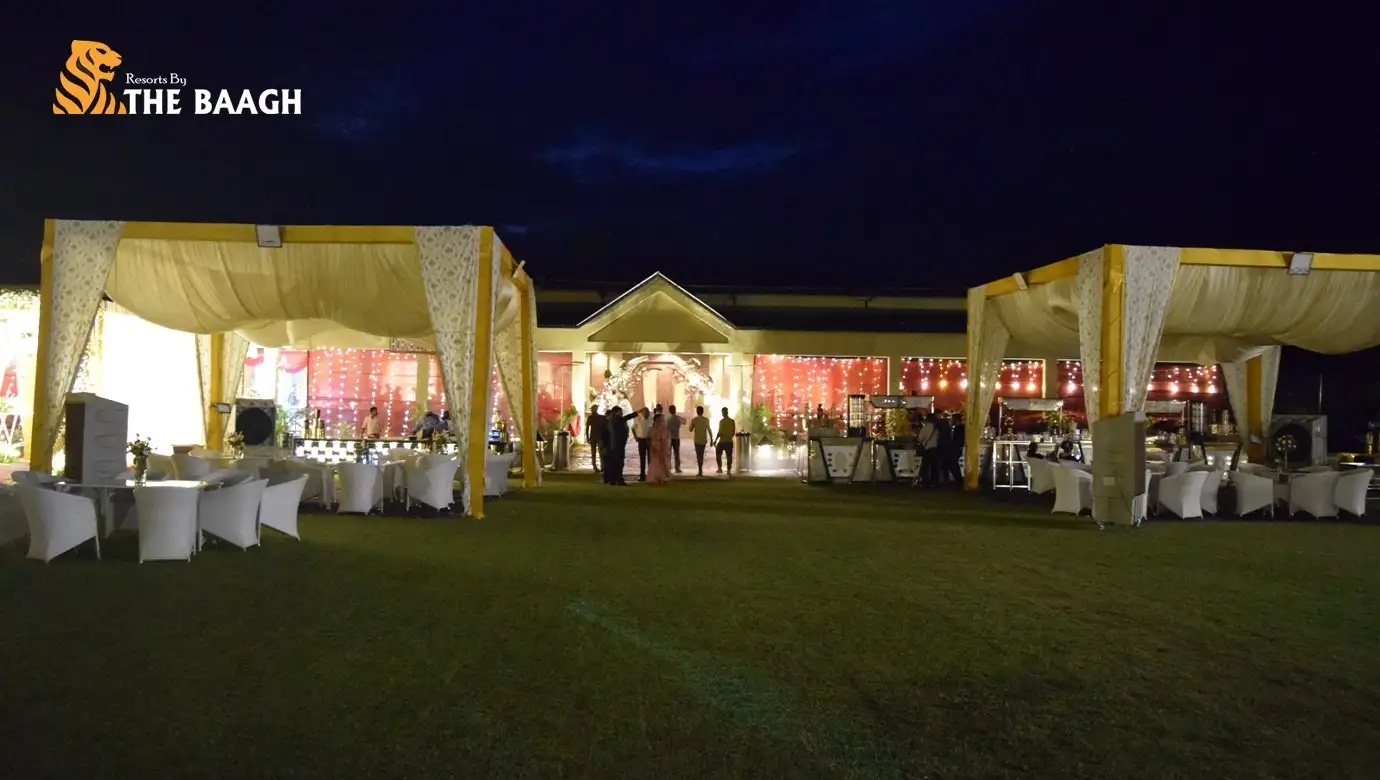 July, 18 ,2023
A Spring Romance Wedding
Spring is one of the most beautiful periods of the year in India. If you enjoy the mild weather, vivid flowers, and windswept environment, spring is the ideal time to begin a new chapter in your life. Imagine your wedding venue having a perfect view of melted snow, an animal emerging from hibernation, lush foliage, and a nice breeze with snow-capped mountains in the background. Everything is so lovely that it transforms your wedding photograph into something spectacular and unimaginably wonderful.
The magnificent surroundings of Bhimtal Valley in the spring season feel metaphorically comparable to the emotion when a new pair begins a new chapter in their lives. This essay is for you if you enjoy the spring season and want to have a beautiful Bhimtal wedding. Some of the top reasons for holding your wedding in Bhimtal during the spring season are listed below.
The Best Reason To Have Your Bhimtal Wedding In The Spring
Pleasant weather:- the spring season is the ideal blend of tiny wintery and mind summary. This wonderful weather allows you to avoid the heat of summer and not feel cold when you go out to collect magnificent pitchers. Spring will bring you pleasant weather with warmer days and cold evenings. As a result, you can easily hold your drink and other wedding ceremonies outside and take stunning images, making your wedding pitcher even more spectacular. The spring season in Bhimtal is not just excellent for weddings but also for spending time with your partner.
Choose the best resort: A beautiful season alone will not make your wedding perfect. You will require the assistance of pros to plan the perfect setup for your wedding. At Bhimtal, you can find a variety of lodges that offer beautiful surroundings and competent support to help you create the right atmosphere for your wedding. Resorts by the Baagh, one of the best resorts for wedding in Uttarakhand, are suitable for couples who desire both luxury and elegance in their wedding.
If you want great wedding weather on your big day, April is the finest month where you can get your hands on a light warm day for all of your sunny photo functions like haldi and a tiny cool wind night for your night ceremony with fantastic lighting and twinkling stars.
Shiny yellow sky + longer days = more time to capture stunning photographs:- While most people prefer winter weddings, the main issue for photographers is the restricted daytime. In the winter, you have limited daylight hours, and the cool breeze complicates everything, resulting in a limited number of images. You may not think this is a huge deal when reading this, but trust me, it will cause a problem, and you will undoubtedly regret it afterwards.
You can have a solution to it if you choose April for your Bhimtal wedding, a gorgeous month with the benefit of not only warm days but also long daylight hours. Your photographer will have more time to think of stunning wedding poses, and the couple will have lovely comfortable weather in which to add a personal touch to their wedding images.
You might choose an outdoor venue:- Resorts by the Baagh, one of the best resorts in Bhimtal, has a magnificent venue space for its guests. If you love nature and want to have your wedding in a setting with snow-capped mountains surrounded by lush foliage and a stunning white river running through it, this is the place to be. Then Resorts by the Baagh is the place to be. The resort has a variety of sites, both closed and open, where you can get the right backdrop for your wedding photos.
Even if the temperature drops at night, our resort has heaters integrated into the venue to provide you with cosy warm weather. So, whether you prefer a beautiful warm setting or a cold outdoor wedding site, Resorts by the Baagh has your perfect wedding venue covered.
Allows your guests to take a vacation: We are all aware of how busy individuals are in their daily lives, especially parents. Whose life revolves solely around their children and office work? The spring is an ideal season for a weekend wedding because schools are out and the weather is pleasant.
Perfect season for flower lovers: If you enjoy flowers, spring is the finest season for you. This is the time of year when you may find a wide variety of flowers. If you are the type of couple who wants a specific type of flower in your wedding, spring is the season that will meet your needs without any hussle-bussle or spending too much money.
If you want your wedding location to be designed entirely around your favourite flower, spring is the season for you. Whether you desire lilacs, tulips, daffodils, bluebells, or anything else, spring is the season to meet all of your needs. So, for those couples who want either of these types of flowers in their wedding, the spring season is solely for them.
What Colour Should You wear In The Spring?
The majority of people select spring to begin a new chapter in their lives. This is the season for romance and cherishing, with a pleasant but not too heated atmosphere. Choosing a spring season is enjoyable, but if you are unsure about which colour is appropriate for your spring wedding, I can tell you that "Soft Shades" such as light blue and grey make you feel relaxed and secure. Wear the light blue colour if you are wearing neutral accessories. If you choose grey, go for brighter colour accessories such as pink, yellow, orange, and so on.
It is raining one minute and shining the next; strange, right? In Bhimtal, the spring season is everything. Because of the changing atmosphere, you should choose dresses that are comfy in both the summer and the rainy season.
Tip: Choose a lightweight fabric that is not too thick, like a woollen cloth or too light, like a hopsack.
So, are you prepared to begin a new chapter in your life during the most beautiful and neutral season? Book your stay at Resorts by the Baagh, which will help you plan the most magical Bhimtal wedding.
By: Resorts By The Baagh