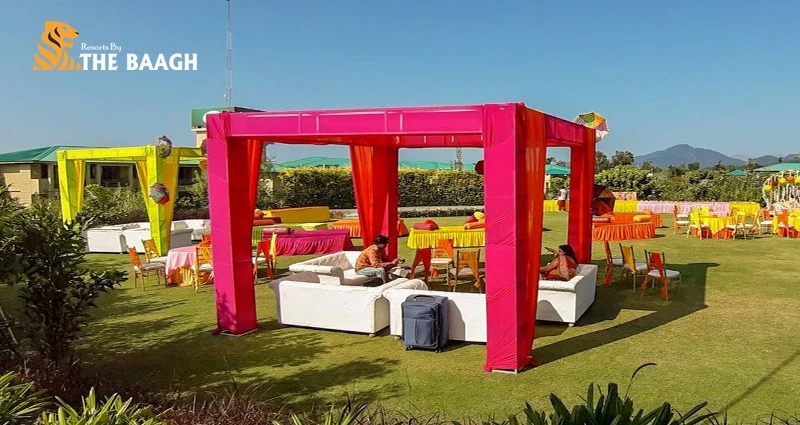 June, 08 ,2023
A Multi-cultural Romantic wedding - Resorts by the Baagh
When two souls from different cultures join together, they weave a beautiful tapestry of traditions, rituals, and festivities. This was the situation at our opulent resort in the stunningly picturesque Bhimtal valley. We had the honour of organising a very stunning multi-cultural romantic wedding that had the best of both worlds. Join us on a trip through this magnificent love festival, where variety and unity are entwined.
Setting the Scene: Resorts by the Baagh, one of the top leading names in the list of best resorts in bhimtal for wedding, provided the ideal background for this multicultural event. Our setting, surrounded by beautiful foliage and overlooking a serene lake, embraced the couple's wish for an intimate yet big wedding celebration. The exquisite architecture and stunning settings of the resort created a magical mood, setting the stage for a wonderful wedding.
Our resort, nestled among the stunning surroundings of Bhimtal, provides the ideal setting for a really charming and unforgettable multi-cultural wedding. Our decor's lovely setting exhibits a harmonic synthesis of many traditions, producing a captivating ambience that honours love, unity, and cultural variety. Every part of our resort oozes elegance and grandeur, with brilliant flower displays, carefully crafted mandaps, and magnificent lighting.
The rich tapestry of colours, textures, and ethnic aspects seamlessly weaves together, giving honour to the bride and groom's various backgrounds and customs. The venue becomes a symphony of natural beauty and cultural richness, heightening the cheerful spirit of the celebration, with stunning views of the tranquil lake and green mountains as a backdrop. Our professional team of wedding planners and designers collaborate closely with the couple, customising every aspect to perfection to ensure that their big day reflects their unique love story and cultural background. Our resort for your bhimtal wedding promotes the spirit of inclusion, providing an enchanted atmosphere where love knows no bounds and celebrates the beauty of variety.
The pair, Ankita and Nitin, came from diverse cultural backgrounds, with Ankita of Western ancestry and Nitin flaunting his Indian roots. Their goal was to honour and integrate their individual traditions in order to create an outstanding wedding experience for their relatives and friends.
Wedding Ceremonies: The wedding celebrations lasted many days and featured a magnificent mingling of cultures and rituals. The rituals elegantly combined customs from both cultures to create a peaceful celebration.
Mehendi and Sangeet: The festivities began with the Mehendi and Sangeet rituals. Ankita's hands were decked with the brilliant colours of the Mehendi ceremony while soothing music and dance performances filled the air throughout the exciting Sangeet night. Guests from both sides of the family came to celebrate the couple's nuptials with excitement and passion.
The Mehendi and Haldi celebrations at our resort in Bhimtal Valley provide our visitors with a magnificent and unique experience. Our resort, nestled among the tranquil and gorgeous surroundings, is the ideal site for these traditional pre-wedding ceremonies. We guarantee that every part of the Mehendi and Haldi festivities is handled successfully, creating cherished memories for the soon-to-be-wed couples and their loved ones, with rigorous attention to detail and a devoted crew.
Our resort oozes elegance and charm, from finely designed wedding venues to magnificent flower arrangements. Our expert Mehendi artists and competent team use high-quality natural henna to create elaborate and gorgeous designs on the hands and feet of the brides and guests. The Haldi ritual, recognised for its auspicious and joyful character, is enthusiastically observed at our resort. We offer a colourful ambience replete with vivid décor, traditional rituals, and a diverse assortment of natural and fragrant Haldi paste components. The personnel at our resort takes pleasure in offering great service, ensuring that the Mehendi and Haldi festivities are unforgettable highlights of our guests' wedding celebrations in the picturesque Bhimtal Valley.
Exchange of Vows: The wedding day arrived, and the air was packed with excitement and expectation. The couple opted to have two wedding ceremonies, one modest Western-style and one traditional Hindu. Ankita came down the aisle in a gorgeous white gown in the Western ceremony, while Nitin looked handsome in his tuxedo. Their vows expressed their love, dedication, and respect for one another.
The traditional Hindu wedding, replete with colourful costumes, complicated procedures, and sacred chanting, was a stunning show. Ankita, dressed in a stunning crimson lehenga, and Nitin, dressed in an exquisitely crafted sherwani, paid tribute to traditional traditions as they began their journey as husband and wife.
Culinary Delights: Food is an important element of every celebration, and this wedding was no exception. The pair created a dinner that featured culinary delicacies from both cultures. Guests were treated to a gourmet feast that mirrored the couple's multicultural union, including Indian specialities like biryanis and curries as well as Western favourites like canapés and pastries.
Celebrations and Memories: The reception began with a big celebration following the rituals. Music, dance, and moving speeches produced an environment of love and pleasure. Guests danced to a combination of Bollywood beats and Western melodies throughout the night, revelling in the blending of cultures and making memories that would last a lifetime.
Conclusion:
Ankita and Nitin's multi-cultural romantic wedding at one of the best luxury resorts in Bhimtal, Resorts by the Baagh for wedding, highlighted the beauty of variety and the strength of love. It offered proof that love crosses cultural barriers and brings people together in incredibly amazing ways. The merging of traditions, the joyful unification of families, and the celebration of love made an unforgettable impression on those who were lucky enough to attend this amazing wedding.
By: Resorts by the Baagh