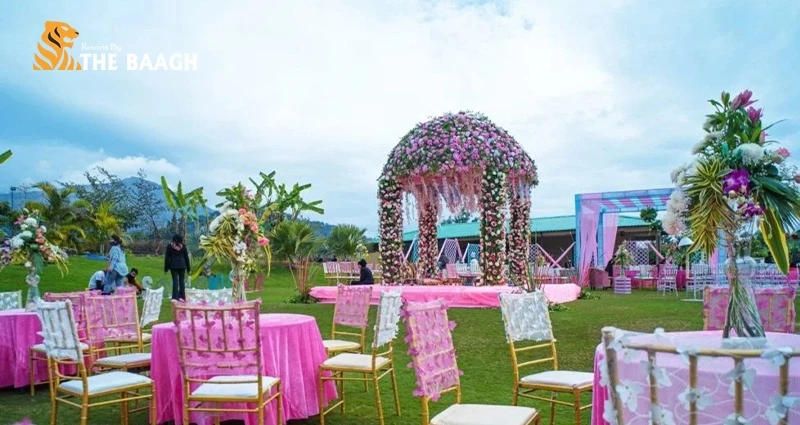 June, 06 ,2023
A Modern-day Fairytale Wedding at Resorts By The Baagh
Every little girl fantasises about a fantasy wedding, a day when she might feel like a princess among richness and beauty. The lovely village of Bhimtal, hidden in India's mesmerising Himalayan foothills, provides the ideal setting for making that ambition a reality. Bhimtal, with its tranquil lakes, rich foliage, and exquisite resorts, has become a popular wedding location for couples looking for an amazing and unique wedding experience. Let us all embrace the richness of the place through this blog by exploring the aspects that make a modern-day fairytale wedding come to life at a luxury resort in Bhimtal Resorts by the Bagah.
The Best Location
The key to a fantasy wedding is choosing the perfect venue, and Bhimtal has a choice of stunning luxury resorts to meet every need. The resort offers a magnificent environment that embodies the essence of a fantasy setting, from opulent interior villas to expansive estates situated among the mountains. The couple and their guests will have an ethereal experience thanks to the stunning combination of natural beauty and opulent comforts.
Our Bhimtal resort is well-known for its superb venue choices, making it a preferred choice for special occasions. The resort's gorgeous setting amidst lush foliage and tranquil surroundings creates an enticing environment that makes a lasting impact on tourists. The resort has a number of venues, each tailored to meet different needs and interests. The resort guarantees that every event is personalised to perfection, from huge banquet rooms for large-scale events to cosy outdoor locations for private groups.
Theme and Humorous Decor
Attention to every little detail is important for creating a fairytale environment. The decor and theme are important factors in making the wedding location into a fairytale environment. Consider flowing flower arrangements, tiny fairy lights, and whimsical accents that inspire amazement and wonder. Every detail, from beautiful archways to elegant table arrangements, is painstakingly crafted to take visitors into a world of enchantment and romance.
The specialised event management staff collaborates closely with customers to fully understand and execute their vision. Furthermore, the resort offers cutting-edge amenities such as audiovisual equipment, attractive design, and scrumptious culinary options, providing a flawless and unforgettable experience for all participants.
Indulging in Excessive Luxury
A fantasy wedding in Bhimtal is linked with elegance and indulgence. Resorts by the Baagh, Bhimtal provide a variety of amenities and services to treat the couple and their guests. Everything from opulent rooms with stunning views to spa treatments and exquisite dining experiences is aimed to provide an amazing extravagance and grandeur experience.
Capturing Magical Moments
A modern-day fairytale wedding needs to be captured in breathtaking photography and cinematography. Bhimtal's natural splendour provides an ideal setting for capturing those special moments. From pre-wedding pictures in beautiful gardens to exchanging vows against the sparkling lake as a background, the visual record of the wedding becomes a cherished souvenir that will be loved for a lifetime.
Delectable foods
On your wedding day, enjoy a gastronomic feast unlike any other at our resort in Bhimtal. We take great satisfaction in providing a scrumptious selection of meals that will tantalise your taste buds and leave your visitors speechless. Our brilliant chefs, known for their skills and inventiveness, skillfully prepare each dish using only the best ingredients and the most incredible attention to detail. Our menu is designed to please every palette, from delicious appetisers that set the tone for the evening to rich main meals that highlight a combination of flavours.
Enjoy delectable dishes ranging from classic local cuisine to worldwide favourites, all made with love and presented with elegance. We recognise the significance of a wedding reception, and our culinary choices are designed to exceed your desires, ensuring that every mouthful is unforgettable. Trust us to create a gastronomic experience that fits the joyful ambience of your Bhimtal wedding, delivering you and your guests with memorable memories of a really exceptional day.
Taking in the Local Attractions
While the wedding ceremony is a big occasion, couples and their guests may also take advantage of the chance to explore Bhimtal's stunning surroundings. The town is well-known for its tranquil lakes, beautiful hiking paths, and lovely local markets. Incorporating these activities into the wedding celebrations allows guests to completely immerse themselves in the region's beauty and culture, boosting the entire fairytale experience.
Conclusion
For couples looking for a wonderful and unique event, a modern-day fairytale wedding at a luxury resort in Bhimtal Resorts by the Baagh is a dream come true. Bhimtal, with its stunning views, exquisite amenities, and attention to detail, is the ideal environment for making dreams come true. Everything from the location to the quirky decor is meticulously designed to create a magical feel. As the couple exchanges vows and begins their journey together, they are surrounded by richness, beauty, and love, making their special day absolutely unforgettable.
By: Resorts by the Baagh