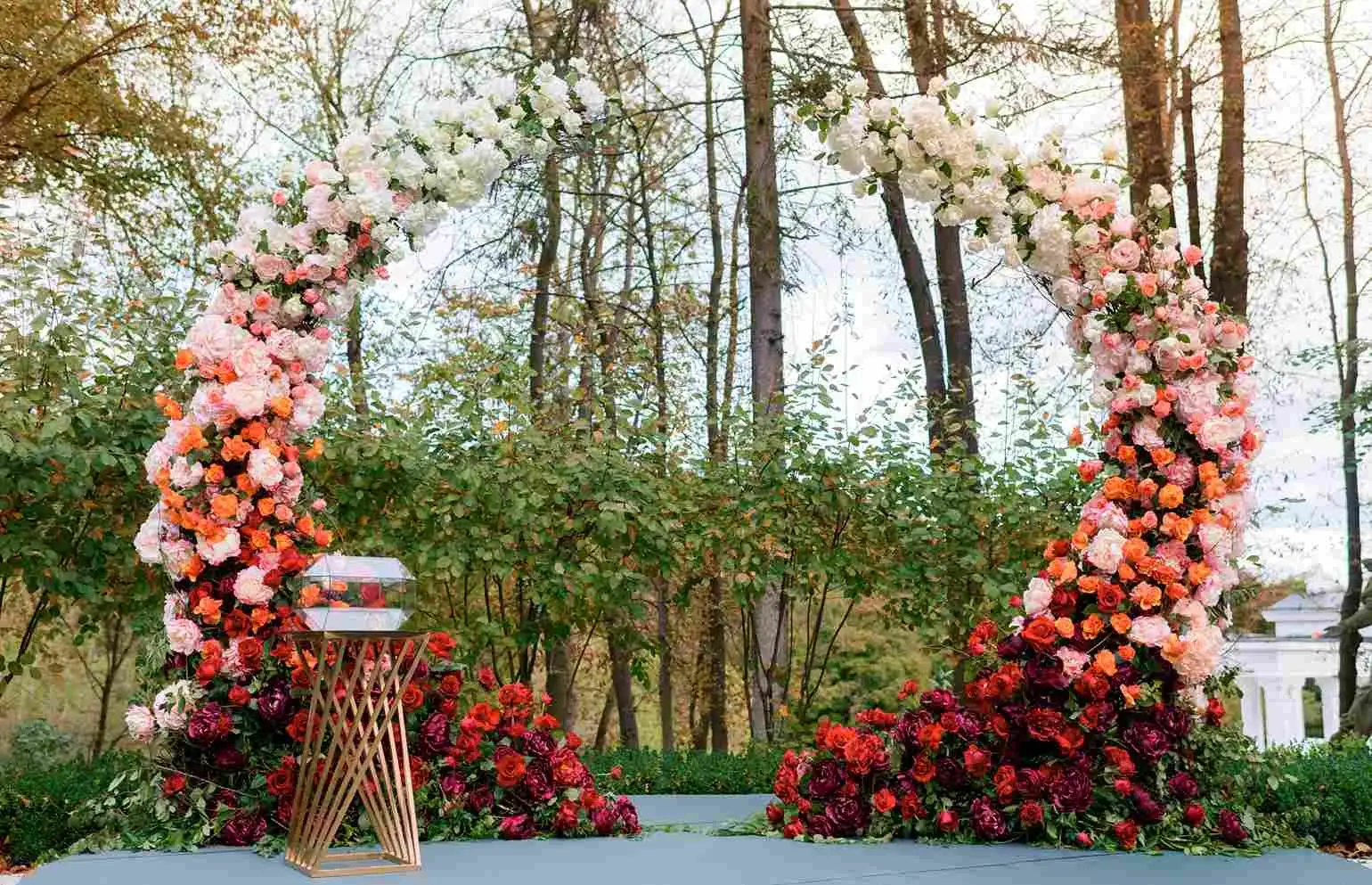 October, 07 ,2023
A detailed guide on how to plan your dreamy wedding in Jim Corbett
Wedding trends change year after year, and many individuals are attracted by Bollywood star weddings and want to marry in the same style. Destination weddings have been growing increasingly popular in recent years. Couples mainly wish to marry in sought-after distinctive and enchanting locations for their weddings, away from city pollution and long traffic commutes. If your wedding bells are also ringing soon, Jim Corbett National Park is one such awe-inspiring site that has grabbed the hearts of many. Indulge in the green foothills of the lovely Himalayan valley.
A destination wedding in Jim Corbett provides a wildlife-rich, serene, and pollution-free setting to begin the next chapter of your life. Continue reading if you want a complete guide to what you have in mind when reserving the resort for your wedding. But first, consider the significance of planning a destination wedding in jim corbett, away from city pollution, and the magical experience it can provide for your big day.
Why does Jim Corbett bring charm to your destination wedding?
Escape from city pollution:- City life is chaotic, with a lot of pollution and long commutes. In Jim Corbett, you will find a polluted-free environment where you may breathe in the fresh deep revitalising air, providing you with a natural cleansing for mind and body.
Indulge in natural beauty: Jim Corbett is a treasure trove of natural beauty, with lush green surrounds, wonderful animals, and lovely Himalayan valley views that produce the ideal sound of harmony. A destination wedding in Jim Corbett allows you to exchange your beautiful vows amidst the grandeur of nature. The breathtaking view of the venue's outdoor setting not only captures the hearts of the gorgeous couple but also mesmerises the guests, creating an unforgettable event that transcends the ordinary.
Customised wedding theme: Whether you want a rustic, dense woodland wedding or a sophisticated celebration surrounded by nature's splendour, the Jim Corbett offers a diverse canvas for making your dream come true! When you choose the best professional wedding organisers, such as Resorts by the Baagh, you will receive experienced decorators who can customise your wedding theme to mix smoothly with the natural components of the park, resulting in a perfect scenic and Instagram-worthy party.
Intimate gathering: One of my favourite aspects about destination weddings is the list of intimate guests. What we all needed were close friends and relatives who were close to us! Destination wedding at Jim Corbett can lead to a more intimate wedding. The intimate surroundings are created by the magnificent natural valley, which allows you to concentrate on the things that are genuinely important to you. In short, celebrate your most important day with those who matter the most!
Embrace sustainability: By choosing a destination wedding in India's oldest national park, you will align with a sustainable and eco-friendly approach to your special day. Couples can host their nuptials in a way that minimises their ecological footprints, thanks to the park's natural preservation efforts. By supporting this, you will have the opportunity to become the pair who contributes to conserving this unique wilderness, ensuring that future generations can enjoy its beauty as well.
Now that you understand the significance of organising a unique destination wedding in Jim Corbett let us take a look at the vital steps of preparing your dream destination wedding at Jim Corbett's super luxury resorts known as Resorts by the Baagh.
Seven Steps to Planning a Destination Wedding in Corbett - Resorts by the Baagh
Step 1: Conduct thorough research before deciding on a resort: Begin your destination wedding preparations by researching the resort's facilities and services. Consider the Resorts by the Baagh's great wedding packages, attractive locations, and opulent hotel options, including room amenities. When you rent Resorts by the Baagh for your destination wedding in Corbett, you won't have to worry about the service because the resort is well-known for its excellent service and welcoming atmosphere.
Step 2: Set your wedding date: After reviewing the facilities, the next critical step is to select a wedding day that accommodates your guests' availability. If you are having a destination wedding, make sure to send them save-the-date cards so that they may mark the day on their calendar and plan their schedule accordingly.
Step 3:- Talk to your wedding coordinator:- Keep in touch with your wedding planner because they are the ones who make your dreams come reality. At Resorts by the Baagh, you will be given the services of a professional wedding planner who will customise your dream wedding. But keep in touch with them so they can closely collaborate with you to bring your idea to life and guarantee that every aspect is flawlessly done.
Step 4: Create your wedding package: This is the most crucial step in organising a Jim Corbett wedding. Make sure that you select the appropriate wedding package based on your budget and interests. Contact the professionals at Resorts by the Baagh to customise a package for your needs.
Step 5:- Check the guests' accommodations:- Making your guests comfortable is one of your most important responsibilities. Check the accommodation facilities in your guest rooms ahead of time. Also, notify your guests about the booking procedures at Resorts by the Baagh, and we will guarantee that they are greeted warmly upon their arrival.
Step 6:- Plan your pre-wedding activities ahead of time:- If you don't want to waste time, plan your pre-wedding rituals ahead of time so that you have time to explore Jim Corbett's surroundings, such as the thrilling jeep safari where you cherish the moment with your guests while beginning the new chapter of your life with happy faces.
Step 7: On your wedding day, the time to create magic has passed: Resorts near the Baagh guarantee that you will have the best life experience without worrying about the facilities. Leave all of the stress to the professionals and enjoy your wedding day.
Cherish every precious second you spend with your loved ones. By keeping the aforementioned points in mind, you may create a magical atmosphere on your wedding day. Book Resorts by the Baagh, and you will have a team that will go above and beyond to ensure your perfect destination wedding in jim corbett.
By: Krishan Batra