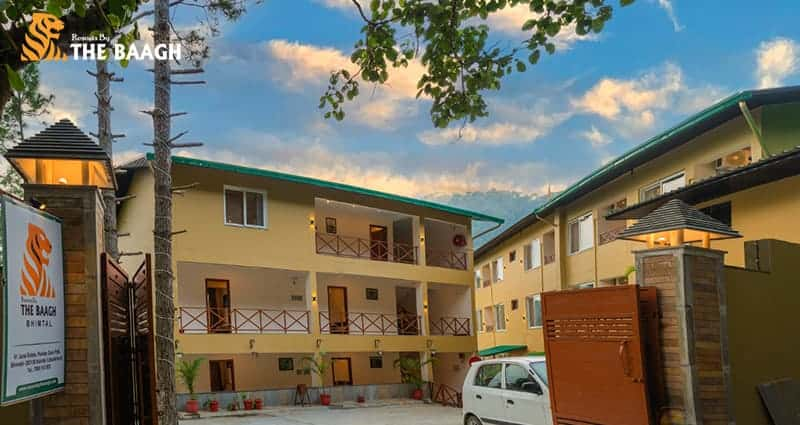 October, 17 ,2022
A Corporate Getaway Or A Memorable Holiday? Venture Into The Pristine Lands Of Kumaon
Corporate events or business seminars, hosting formal affairs in offbeat destinations is quite a trend. Do you agree? Travelling to a far-off destination and wrapping up venture essentials amidst picturesque views is no less than a joyride. Are you planning a business congregation soon? Voyage into the scenic hillscapes of Kumaon next. The ethereal charm of the dense verdant stretch, the mystique of the Himalayan peaks, and the cascading waterfalls serve as a perfect backdrop to host events and luxuriate away in the wild.
Finalising a resort for corporate outing is not as easy as it sounds. It is no surprise that venturers brood over multiple factors when selecting a venue to host events on a grand scale. A venue that ticks all the boxes contributes to the success of businesses and public relations. So, wondering which factors matter? Let's read about it.
Amenities
Modern conferencing is best hosted in equipped and tech-enabled business centres. State-of-the-art screens, upscale interiors, audio-visual equipment, and proficient set-up crews to monitor and keep the seminars on roll are a must.
Location
The joys of nesting away in the midst of the scenic natural vistas are an unforgettable experience. A corporate event or an informal gathering, the location and the beauty of the property matter big. Features like interactive indoor maps, ample parking space, and staff to navigate through the nooks and corners of the expansive and lavish resort space are appreciated personalised touches.
Food and beverage services
No resort for corporate outing is worth a visit if kitchen and beverage services are not on fleek. A seamless flow of good snacks and beverages keeps the momentum of an event or a seminar going. Besides, a prompt arrangement of lavish food spreads during lunch, high-tea breaks, or dinner for the attendees is a must.
Acoustics
Loud and noisy events might sound like fun, but they are certainly inappropriate for corporate events. The clamour makes it difficult to socialise or exchange interaction. Keeping tabs on the acoustics of the space and the business centres is key. Also, bear in mind that meeting rooms or spaces with low ceilings bar the sound from travelling well.
Logistics
Hosting large-scale business events is truly frazzling. From ensuring top-notch technological amenities and accommodation to materials, equipment, and more, keeping an eye on the ins and outs of the logistics is harder than you imagine. Upscale 5-star resorts have in-depth knowledge of the requirements and constraints for flawlessly conducting formal corporate events.
Ideally located at the knolls of the Himalayan ranges, Resorts By The Baagh stands out as a perfect pick for offsite corporate events. The Kumaon high-grounds are a traveller's delight. Replete with lush stretches of verdure and a breathtaking variety of biodiversity, the hill slopes of the region win all hearts.
Is Jim Corbett a good place to visit?
Are you a wildlife enthusiast? Did you always imagine reclining away in the tranquil lap of the wild? If so, a venture into the deciduous woods of Jim Corbett is sure to be a soul-warming experience. Jim Corbett resorts' packages are more than just holistic stays and wild adventures. Tourists often invade the forests, hoping to catch a glimpse of the Royal Bengal Tiger. That's not all! The Corbett Jungle boasts a wide number of rare wildlife like sloth bears, jungle cats, Asiatic black bears, barking deer, Sambar deer, and more.
Indulge in hotfooting across the nature trails and laze around, witnessing the abundance of avifauna in the region. Did you know that Jim Corbett is much favoured by birdwatchers too? Over 650 different species of migratory birds flock to the green ridges of Kumaon. Are you valiant enough to try new adventures? Ride on the coarse mountain slopes, climb the perched rocks, raft away in the swooshing Kosi river, or enjoy rappelling in heights, Jim Corbett is a sways traveller's of all kinds.
Whether you are dropping in for a leisure holiday or planning a corporate getaway, Resorts By The Baagh in Jim Corbett is a perfect place to unwind and wrap up business activities.
Resorts By The Baagh-A Luxury Host
The Jim Corbett national park resort package options are a few too many. However, standing above the rest is Resorts By The Baagh. An opulent residence positioned amidst the lush and verdant Sitabani forests welcomes tourists in a lavish, decorous, and upscale resort. The rooms here are available in five uber-luxe categories and feature ritzy furnishings, prompt in-room services, leading-edge flat-screen televisions, and more. The organic garden, azure and placid swimming pool, a luxurious wellness centre, the finest-in-standard multi-cuisine restaurant "Nivala," recreation zones, and more, lounge in the lap of luxury at Resorts By The Baagh.
Why just a leisure vacation? The resort houses a spacious pillarless banquet hall, spanning over 7,200 square feet, and business centres to host and conduct corporate affairs and large-scale events.
Are you looking to nest away in a boutique estate that exude luxury and opulence in all corners? Do check out the exquisite property by Resorts By The Baagh in Bhimtal. Beautifully burrowed in the Kumaon valleys, experience the bliss of sunsets crawled up in your feather-soft beds. The beautiful vistas, upscale amenities, fine dining, and pristine blue swimming pool wrap up a one-of-a-kind vacation experience.
By: Resorts by the Baagh