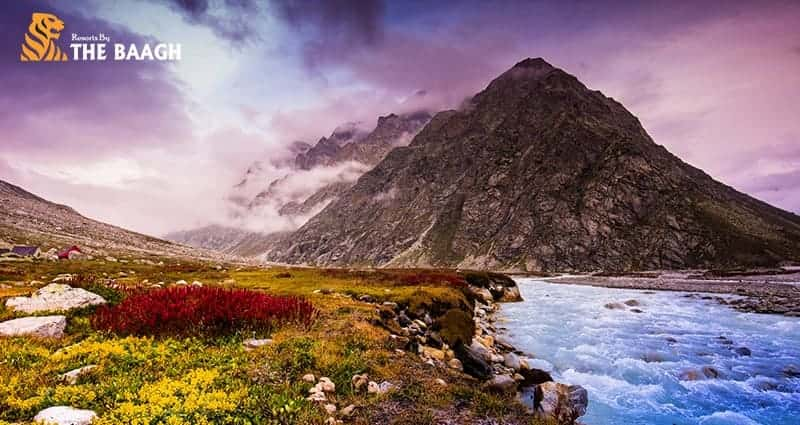 January, 06 ,2023
8 Fun And Unusual Things To Do In Uttarakhand
The unscathed beauty, pristine aura, and bounties of wildlife make Uttarakhand a prized jewel of India. Abundant with temples, wondrous nature trails, and breathtaking scenic views, the state stands out as a must-visit for adventurers and nature lovers. Are you planning a vacation in the beautiful and sublime lands of Uttarakhand? Well, little do you know that a trip here promises you a surreal experience of dwelling in the heart of nature and wildlife. Wish to shortlist destinations for an enjoyable vacation in the picturesque and holy state? Of course, names like Jim Corbett, Rishikesh, Bhimtal, and the Kuari Pass top the list of the most explored yet offbeat locations in the heart of Uttarakhand.
What should you do first?
Whether you are eager to traverse the decadent woods of Corbett or hang around the scintillating lake-side meadows of Bhimtal, a holiday in Uttarakhand is unlike the ordinary. But, before you head forward with your travel plan, there are certain things you must finalise first. For example, finding yourself the best resorts in Jim Corbett is essential to wrap up a delightful and uninterrupted holiday experience. Mapping out a thorough itinerary in advance is a good idea. It prepares you for a seamless and exciting vacation.
Wondering why reserving a fine stay ahead of time is quintessential? Well, the luxuries of having a comfortable place to crash and indulge in restful hours work wonders. It gears you with high spirits and energy to discover the ins and outs of the place you are touring. Are you a leisure voyager? Do you love hanging hats in fancy properties, looking for a peaceful respite? If yes, clinching deals on incredible stays doubles the happiness of vacationing in serene and far-off locations. Resorts in Jim Corbett or in the idyllic hill stations of Uttarakhand are not few. However, the best ones sell out super-quick.
In addition to the thrills and beauty of Corbett wilds, resorts in Bhimtal fill up in a jiffy. The tranquillity and picture-perfect landscapes of the quaint mountain valley top the list of ideal vacation places for solace and nature lovers. So, without much ado, shortlist the place you wish to travel to and a resort that promises you luxury living in the arms of nature. Are you looking for an upbeat resort in the burrows and wilds of Uttarakhand? Experience the perks of lavish living at Resorts By The Baagh.
8 incredibly fun adventures and activities in Uttarakhand
Are you storming off for a winter vacation in the beautiful northern state of Uttarakhand? Great! Little do you know that a holiday in a picture-perfect state is more than just a relaxing or leisurely affair. Wallow in the joys of fun adventures. Travel across the scenic valleys. Tourist destinations in and around Uttarakhand host ample activities for adventure enthusiasts. Let's give you a quick glimpse of fun activities and adventure gigs in the beautiful 'Land of Gods.'
1. River Rafting
Have you ever witnessed the thrills of braving the gushing white water currents? If not, do not miss trying your hands at river rafting. Uttarakhand is home to the gurgling river streams of Ganga, Yamuna, Kosi, Alaknanda, and Kali. Experience the thrills of battling the strong rapids and waves of the river streams in Rishikesh and Jim Corbett.
2. Bungee Jumping
Do you love adventures? Feel alive and experience the kick as you descend and dive from the great heights of the Kumaon mountains. Lose yourself in the thrills of a freefall under the guidance of trained experts. With ramps set metres above the bright and dazzling emerald Ganges, bungee jumping is one of the most sought-after and exceptional experiences in Uttarakhand.
3. Trekking
If you are not aware already, the coarse and marshy terrains of the Kumaon and Garhwal regions feature awe-inspiring nature trails for trekkers. Hike the elevated ridges for an unbeatable experience and treat your eyes to the magical views of mountains and wilds on your way up.
4. Boating
The bliss of boating and cruising your way through the gurgling waters of the scenic Nainital lake is an experience of a kind. Also, the crescent-shaped natural water stream offers enchanting sunset views. Boating in Uttarakhand is truly a soul-warming experience.
5. Cable Car Ride
Wouldn't you love a bird's eye view of the quaint lake city nestled amidst the snow-capped hilly peaks? The ropeway is a popular activity in Uttarakhand. Tourists have a delightful time revering the breathtaking glimpses of the elevated terrains. Try the aerial cable car ride starting at Mallital for a delightful experience.
6. The Nag Tibba Trek
If you are an adventure enthusiast and haven't heard of the famous Nag Tibba trek, you are probably living under a rock. The exhilarating trail kicking off from the rugged heights near Mussoorie stretches up to 10,000 feet of elevation, snuggled in the lap of frosty snow-clad mountain peaks. Little do you know that Nag Tibba is also known as the pristine home of Nag Devta. Lush deodar forests and floral beds surround the gorgeous hills in the area.
7. Paragliding
A no ordinary recreational sport, enjoy the thrills of flying like a bird, watching the landscapes and pretty views snowballing into small and petite scenes. Wondering where you can paraglide in Uttarakhand? From the mighty hills of Mussoorie to the dreamy burrows of Kausani and more, several places in Uttarakhand allow tourists to wallow in the joys of paragliding.
8. Jeep Safari
A holiday in Uttarakhand is incomplete without an exhilarating wildlife safari in the marshy and thick forests of Jim Corbett. Relish in an aura of solace and adventure as you cruise through the dense interiors hoping to catch sight of Royal Bengal tigers, Asiatic elephants, pangolins, barking deer, and an array of wild and endangered animals.
From camping on the river banks and cliff jumping in Rishikesh to skiing in Auli, rappelling in Mussoorie, and more, adventure opportunities are not one but many in Uttarakhand. Are you excited about a wondrous getaway in Bhimtal soon? Make your pick from the best resorts in Bhimtal and make your holiday a happy and pleasant one.
By: Resorts by the Baagh