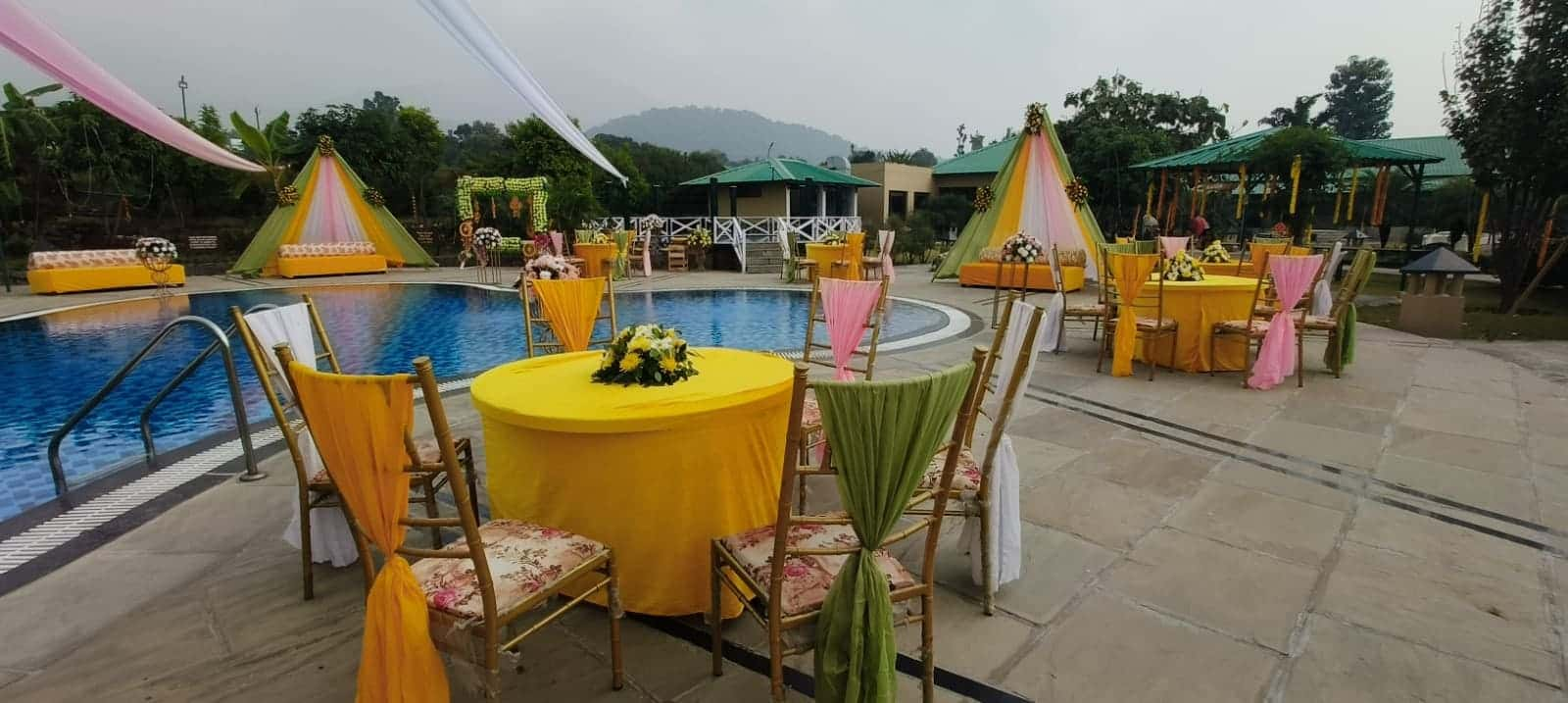 November, 22 ,2022
5-Star Luxury Wedding Venues In Jim Corbett
Have the rustic feels of a quaint and intimate wedding in a beautiful, serene, and far-off location always enchanted your heart and mind? Do you love burrowing in the lush arms of nature? If yes, Jim Corbett is undeniably one of the choicest destinations to say yes and embark on a love-filled journey of togetherness and forever. The tranquil aura and the eye-catching vistas of the picturesque Kumaon wildlife reservation are one of the most sought-after and preferred luxury destination wedding options. From couples who are head over heels for one another to wildlife and nature lovers, the quaint wilderness of Jim Corbett has drawn tourists for decades.
Are you looking forward to hosting a gala and extraordinary destination wedding in Jim Corbett? Truly, a great idea! The epic views, the solace, and the wondrous aura of the dense and marshy forests round up a perfect ambience to mark and celebrate the beginning of a new journey in the presence of your loved ones. Unfortunately, putting together a grand wedding festivity in a remote locale is not all rosy and simple. Pulling all stops to ensure arranging a seamless and perfect luxury destination wedding is incredibly challenging. From logistics and guest concierge to event planners, catering, and more, there are ample tasks to tick off on the list. Sadly, the tasks are not just tedious but stressful for the mind. Do you know a remedy to sit back, laze, and enjoy the wedding carousal? Sign up for a luxury destination wedding with an upbeat 5-star resort in Jim Corbett.
What makes 5-star resorts in Jim Corbett distinctively functional for weddings?
The perks of hanging hats in 5-star resorts are more than dwelling away in the lap of luxury. Take pleasure in the best-of-class hospitality and services that doubles the joy and comforts of residing in an upscale and lavish 5-star property. Are you curious to find out why arranging a destination wedding in Jim Corbett in a luxury and offbeat star property is less stressful? Let's find out!
The best and skilled set of professionals is always at your beck and call.
It is no surprise that professional assistance is always a boon when wrapping up an extravagant ordeal like a destination wedding. From the right liaison to the best people in guest services, a premium 5-star resort ensures that your vision of a fairytale wedding is beautifully brought to life.
Welcoming guests to a world of handpicked luxury and hospitality
Despite hosting a luxury destination wedding in an offbeat and faraway location, you still have a guest list to attend. Unfortunately, guests can be awful critics at a wedding. Making arrangements at a 5-star resort ensures that all guests are well taken care of. In addition to warm and class apart hospitality, the cosy and plush rooms in upbeat resorts like such enable guests to revel in the luxuries and comforts of a fine stay.
Wedding festivities are undeniably a crazy joyride. The innumerable functions and soirees of a big fat Indian wedding are not unknown. Letting loose and soaking in the joys of pre-wedding rituals are fun but tiring. Hence, crashing into soft beds and unwinding in the pleasures of demure and modish rooms is an unparalleled experience.
The best views for a perfect photoshoot
Weddings are momentous and unforgettable. To relive the joys, romance, and charm of D-day, don't you often flip through the pictures stacked in your wedding album? Why just weddings? The craze for a grand pre-wedding shoot is just as big. In destinations like Jim Corbett, the unfurled foliage, the mesmerising Himalayan peaks, and the picturesque landscapes create a beautiful backdrop for a desirable pre-wedding shoot or the grandeur of a traditional Indian wedding.
A culinary experience like no other
Good and gourmet catering is quite synonymous with frantic wedding plans. Settling on the best-in-business caterers to arrange and reward your guests with a fine culinary experience can be quite tricky. Kiss goodbye to the troubles of finding the best wedding caterers. Proficient chefs in 5-star resorts have the expertise and experience to lay out an alluring buffet of flavoursome foods and diverse cuisine. Watch your dear guests luxuriate in high spirits as they munch away, savouring the tasty flavours of the dishes served at a wedding.
Now that you know the advantages of hosting a luxury destination wedding in an upbeat 5-star property, are you curious to narrow in on the best options in the Corbett wilds? Resorts By The Baagh is an incredible property burrowed amidst the verdant stretches of the Sitabani adventure zone. The wondrous views of the expansive property steal the show. Nestle away in spacious and cosy rooms and take delight in the luxuries and services, making your stay a far more snug, warm, and lavish one. Destination weddings at Resorts By The Baagh are a grand, elaborate, and unmatched affair.
By: Dilip Singh