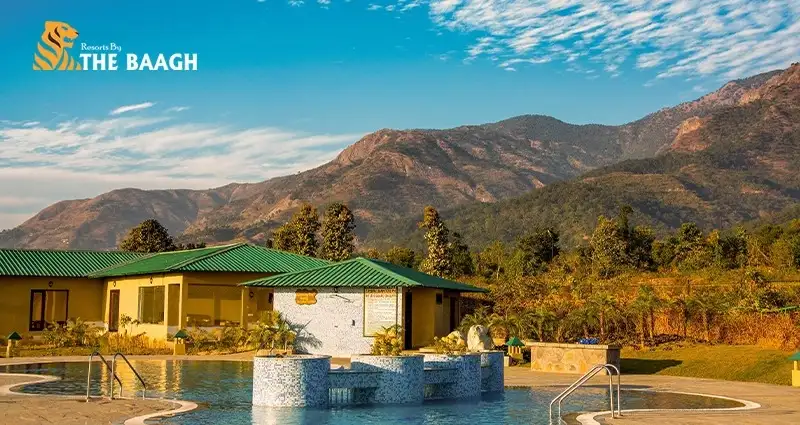 July, 04 ,2023
10 Reasons Why You Should Visit Resorts by the Baagh Resort This Summer
Summer vacation is underway. Why are you spending your time wandering around your own house? Give time to your family and friends and organise a summer holiday in the picturesque Bhimtal Valley environs. Believe me when I say that a calm trip is the best remedy for all of your issues. Whether you enjoy animals, rich green forests, or highland valleys, Bhimtal is the location for you. This site provides a list of the best resorts in Bhimtal that are a wonderful combination of stunning scenery, delicious food, a breathtaking river view, a thrilling activity zone, and wildlife.
Planning a summer holiday trip is both an exciting and daunting undertaking. The location has several destinations to select from. It has become critical to locate a resort that provides exquisite elegance, rich vegetation, animals, and a refreshing getaway from the blistering heat. And Bhimtal is the ideal destination for a relaxing and adventurous holiday. The location is a hidden treasure in the Kumaon area of Uttarakhand, India. There has yet to be a convenience! Don't worry; the top 10 reasons for visiting Bhimtal during your summer vacation are given below.
Why Bhimatl is the ideal destination for a fun and restful holiday
Bhimtal is surrounded by beautiful greenery and the gorgeous Bhimtal Lake. If you enjoy being near water, this is the place to be. While rowing amid a deep river, you may appreciate the massive mountain vista surrounded by beautiful greenery. You may relax in this serene environment. In addition to fishing, the lake's serene ambience provides an ideal escape from the frantic routine of city life.
Natural Beauty:- The area is endowed with amazing natural beauty. Where you may lose yourself in the breathtaking scenery, lush forests, and panoramic vistas of the massive Himalayan peaks, the location offers a refreshing mountain wind that will revitalise your mind, body, and spirit.
Ample Adventure Activities: The location is also ideal for adventure seekers. You may participate in exhilarating sports such as paragliding, rappelling, hiking, and rock climbing here. Satisfy your adrenaline cravings while enjoying the region's wild beauty.
Note: If you want to save money on your trip, visit the various websites and look at the various summer package. Which offers you greate delas and fascinating adventure.
Explore the rich local culture and heritage: This location is also a cultural lover's paradise. Here you may get a fantastic view of the Kumaon region's rich past. You should certainly visit historical temples such as the Bhimeshwara Mahadev Temple to immerse yourself in the spiritual aura.
After experiencing all of these amazing adventures, you are now seeking premium lodging alternatives. Where you may unwind your spirit and prepare your body for the day's journey. Resorts by the Baagh is an excellent choice if you are looking for a 5-star resort in the heart of Uttarakhand's beautiful adventure.
Resorts on the Baagh - Warm Hospitality and 5-Star Accommodation
Escape the lowlands' searing heat and experience this highland station's cool atmosphere. The nice weather in Bhintal is ideal for a summer break, enabling you to rest, unwind, and reconnect with nature.
Excursions to nearby attractions are available when you book Resorts by the Baagh, Bhimtal. You will get to see magnificent other locations such as Nainital, Mukteshwar, Sattal, and other attractive hill stations. Each location has its own distinct allure that contributes to the overall experience of your visit.
Resorts by the Baagh: When it comes to excellent lodgings, the Resorts by the Baagh are at the top of the list for a luxurious and pleasant stay. The resort will provide you with breathtaking views, modern amenities, and first-rate service. You may relax in the beautiful surroundings and make your holiday genuinely unforgettable.
Exquisite Cuisine:- Bhimtal is a food lover's paradise, and at Resorts by the Baagh, you will be able to enjoy the delectable Kumaoni cuisine, which is known for its distinct flavours and lovely locally sourced ingredients that savour traditional dishes like bhatt ki churkani, gahat ke parathe, and rashaat that will leave your taste buds craving for more.
A wonderful combination of relaxation and adventure: The Bhimtal strikes the ideal blend between relaxation and adventure. Whether you enjoy relaxing by the lake or exploring the surrounding hills, this resort has a variety of experiences to suit your needs.
Hopefully, you are now ready to plan your vacation to Bhimtal. So, without a doubt, reserve a room at Resorts by the Baagh. And arrange a nice holiday in a location where excellent accommodations make you feel at home.
By: Resorts by the Baagh